As families gear up for Mother's Day, here's a great way to show your appreciation for mom and mom figures than by putting three little words into action: Breakfast in Bed, says celebrity chef Curtis Stone.
Australian-born, Stone is an award winning chef and is chef/owner of Maude in Beverly Hills, Gwen Butcher Shop & Restaurant–and English-style butcher shop eatery, and Georgie by Curtis Stone in Dallas.
Unsure what to whip up?  Not too worry. Stone's got you covered with his ALL-NEW breakfast in bed recipe (approved by his wife Lindsay and kids), that blends savory and sweet in a "sparkling" delicious way using Waterloo Orange Vanilla Sparkling Water.
"My cooking philosophy is to keep it simple and cook with naturally produced ingredients just as Mother Nature intended," says Stone who is an Iron Chef and is one The Iron Chefs from the new Netflix show (left to right): Marcus Samuelsson, Dominique Crenn, Curtis Stone, Gabriela Camara and Ming Tsai.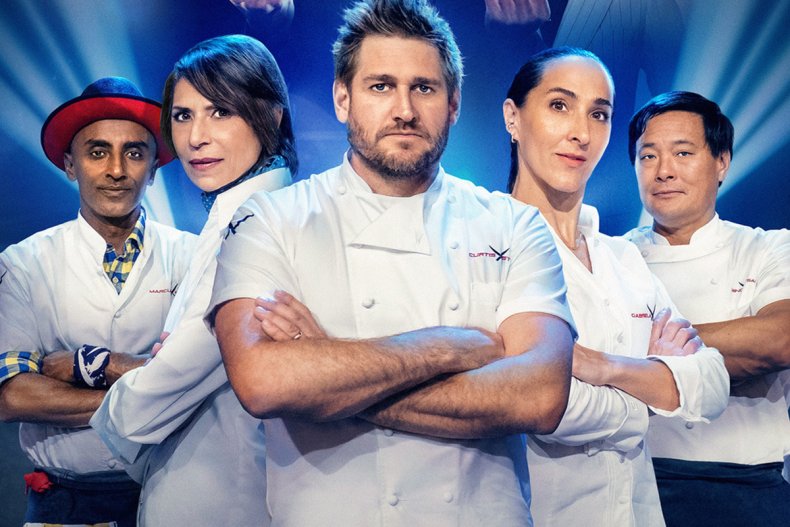 Stone has also appeared on Food Network's Iron Chef America in the episode "Battle Skipjack Tuna," where he lost to Iron Chef Bobby Flay and was a judge on the first season of Crime Scene Kitchen, and was also the red team's chef's table guest diner during the second dinner service in Hell's Kitchen's twentieth season.
He is the author of six cookbooks including Good Food, Good Life, What's for Dinner?: Delicious Recipes for a Busy Life: A Cookbook, and Relaxed Cooking with Curtis Stone.
Orange Vanilla Crepes with Whipped Mascarpone and Caramel Sauce
1 cup all-purpose flour
1 cup Waterloo Orange Vanilla Sparkling Water
1/2 cup heavy cream
2 large eggs
4 tsp sugar
Pinch of salt
2 tbs unsalted butter
Whipped Mascarpone:
8 oz mascarpone cheese, chilled
1 cup heavy cream, chilled
Caramel Sauce:
1 1/3 cups granulated sugar
3/4 cup heavy cream
Pinch of salt
To make crepes:
1. In blender, combine flour, Waterloo Orange Vanilla Sparkling Water, cream, eggs, sugar, and pinch of salt and blend until smooth. Cover and refrigerate 30 minutes.
2. Heat medium (10-inch) frypan over medium-low heat. Melt 1 tsp butter in pan.
3. Pour about 1/4 cup batter into center of pan and swirl to coat bottom thinly. Cook 2 minutes, or until edges of crepe are light brown.
4. Loosen edges gently with thin spatula and carefully turn crepe over. Continue cooking 1 minute, or until bottom begins to brown in spots.
5. Transfer crepe to a plate. Repeat with remaining batter, adding butter to pan as needed, and forming about 10 crepes in total.
Meanwhile, to make whipped mascarpone and caramel sauce:
6. In medium bowl, using whisk, lightly whip mascarpone, cream, and zest until soft peaks form. Set aside.
7. In medium saucepan over low heat, stir sugar and 1/4 cup water until sugar has dissolved. Increase heat to medium-high and boil without stirring for about 8 minutes, brushing down sides of pan with wet pastry brush to dissolve any crystals, until caramel is golden brown. Remove pan from heat and slowly whisk in cream and pinch of salt; caramel will bubble vigorously.
To assemble and serve crepes:
8. Lay one crepe flat on work surface and spread some whipped mascarpone over crepe in thin layer. Repeat to assemble remaining crepes. Divide crepes among plates. Spoon caramel over crepes and serve.
Prep Notes:
Serves: 4 (makes about 10 crepes)
Prep Time: 35 minutes; Cook Time: 25 minutes
Make-Ahead: Crepe batter can be made up to 1 day ahead, covered and refrigerated.
Tapas—delicious tidbits served on tiny dishes that originally served as lids for glasses of wine or sherry—are meant to be just two mouthfuls and were until recently free for those ordering spirits. All that has changed with the increasing popularity of tapas, writes Elisabeth Luard, an award-winning food writer who spent 15 years living in Spain who brings this expertise and experience to her latest cookbook, Tapas: Classic Small Dishes from Spain (Grub Street). But that doesn't change the enchantment of getting to try many bites of an assortment of delicious foods.
Describing tapas as embodying a way of life, Luard tells about her experiences of moving with her novelist husband and their four children to a remote Andalucian valley and learning to appreciate the pleasures of this thoroughly Spanish way of eating.
"Long before the fashion for open kitchens in Michelin-starred restaurants, the humble provider of tapas cooked to order and set everything out on display," she writes in the introduction of her book.
There was a lack of entertainment at the time—they moved there in the 1960s—but there were tapas and wine to be found in the small towns of Andalucía with their Moorish influences and names like Pelayo, Valdepenas, and Puerto de Santa Maria, or the bigger cities such as Algeciras, a bustling seaport. Here, they could enjoy dishes of tapas, drink the local wine, and socialize.
"Since we did not live in a village, we would make our way to our chosen locale and do the rounds," she continues. "If we turned east down the road towards the Atlantic, we could have spider-crabs and sea snails in a bar set into the Moorish battlements of Tarifa, and the go on further, to the chozo down by the beach at Punta Paloma, for deep-fried quail and the fattest crispiest chips in Spain."
Saturday night was typically when Luard and her husband and their four children would plan where to go for tapas. Once they arrived it was typical for bartenders to be ready to recite the list of tapas when asked "Que hay para tapar?" or "What is there to pick on?" And the answer to that depended upon not only local ingredients but also the kitchen equipment as well. That might include a plancha—the flat metal griddle used to grill sardines, prawns, thin slices of tuna, swordfish, and pork fillets marinated with garlic and paprika, a cazuela—a shallow earthenware casserole, or a metal tin filled with white-hot charcoal that dates back to the days of Moors.
Luard provides a plethora of recipes that she hopes will encourage us to get the tapas habit and once that happens, she suggests we raise our glasses together in the traditional Spanish toast, "Salud, amor y pesetas!" Here's to health, love and wealth!"
And with her recipes, all simple to make including such small plates as croquettas de atun (tuna croquettes), pinchitos morunos (Moorish kebabs), filetes con cabrales (steaks with blue cheese), and a variety of omelettes, the salutation will be a joy to make.
The following recipes are from Tapas by Elisabeth Luard.
Fried Baby Artichokes
(Alcachofitas fritas)
6 baby artichokes
Olive oil for shallow frying
Sea salt
1 lemon, quartered, to serve
Wipe the artichokes and trim the stalks off level with the base. With a sharp knife, peel off the rough outside of the stalks and cute them in half lengthwise. Halve the artichokes and nice out the hairy little choke.
In a frying pan heat enough oil to half-submerge the artichokes when placed cut-side down in the pan. When a faint blue haze rises from the surface of the oil, put in as many artichoke halves as the pan with accommodate in a single layer.
Fry until the leaves are prettily bronzed and the choke tender, turning them once. Continue until all are ready, leaving the stalks until the end.
Drain on kitchen paper, sprinkle with salt and serve with the quartered lemon.
Eat them with your fingers, from the choke towards the leaves as far as is tender.
Grilled (broiled) Mushrooms with Garlic and Rosemary
Champinones a la parrilla
8 ounces mushrooms
1 to 2 fat garlic cloves
2 tablespoons olive oil, finely chopped
Salt and pepper
Bread squares, to serve
Wipe the mushrooms and trim the stalks level with the caps. Discard the trimmings. Arrange the mushrooms stalk upwards on a grill or broiling pan or griddle.
Sprinkle the mushrooms caps with the chopped garlic, rosemary, olive oil, salt and pepper.
Grill (broil) the mushrooms fiercely until the juices run and the caps are spitting hot. Serve on squares of fresh bread, each speared with a cocktail stick.
This review previously ran in the New York Journal of Books.